SHARK FISHING IN CHARLESTON
Sharks? That is right!
During the warmer months, the Charleston Harbor becomes a breeding frenzy plus an amazing dinner buffet of menhaden for our feisty shark friends. Charleston, SC is home to many different species of sharks; bonnet-head, lemon shark, Atlantic sharp-nose, black-tip, sandbar shark, and scalloped hammerheads,  just to name a few.
Fishing the Charleston Harbor on our action packed shark fishing trips gives you the chance to enjoy a thrilling fight by some tiny, yet some large toothy critters.  Departing from the famous Shem Creek out of Mount Pleasant make these a quick trip into the Charleston Harbor, therefore maximize your fishing experience. Our fishing guides on these shark trips are equipped with top notch heavy fishing tackle ready to handle the work out.
These trips are seasonal only for the summer months (May-September); which can work out perfectly as the temperatures can be unacceptable- LOL. The two hour charters are perfect for families with young children looking for an adventure, as these audacious creatures and their bottomless feeding habits make for swift action, therefore helping create a void on those venturous attention spans.
Please take note: that there can always be the possibility that one of our larger shark friends in the 4 to 6 ft range will come along and put on an extensive fight, slightly resulting in a two hour trip to pass very quickly. This may cause everyone on larger groups to not be able to catch a fish, along with being slightly too intense for the young ones so the adults or captains help may be needed.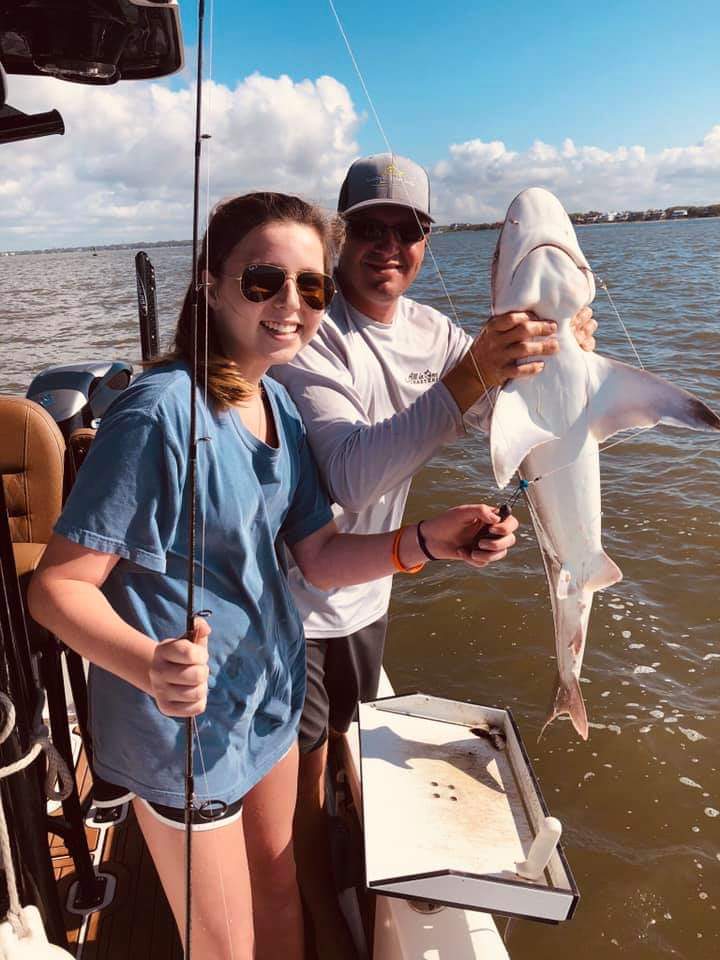 If two hours seem too short for you and/or your group, then our four hour fishing trips are perfect, secondly this largely increases the likelihood for a more exhilarating encounter of the highly sought after all mighty bull red (aka reddrum).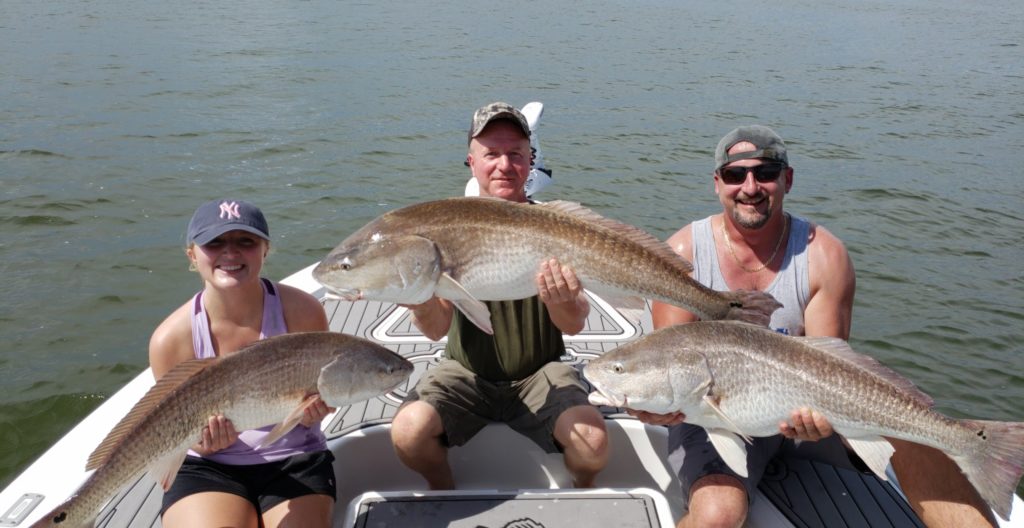 A bull red is a mature reddrum ranging from 20 to 75 plus pounds, and is anywhere from 10 to 60 years in age. These all mighty sized redfish are very powerful, creating an electrifying scuffle just to reel these monsters in, as they do not give up until they are truly exhausted; making this the number one reason reddrum are one of the highest sought after fish in the inshore saltwater fishing community. Although their smaller young relatives are extremely tasty the bull reds are catch and release only.
Give All In One Charters the opportunity to assist in making your fishing dreams come true with our experienced and knowledgeable guides helping locate and land your biggest fish to date.
Furthermore if your family is looking for a less intense yet more hands on experience check out our inshore creek fishing.
2 HOURS

Includes 1 Guest

Each Additional Guest is $50
(Maximum Party Size: 6 Total Guests)

Trip includes all:
licensing, bait, tackle, rods, and reels.
4 HOURS

Includes 1 Guest

Each Additional Guest is $50
(Maximum Party Size: 6 Total Guests)

Trip includes all:
licensing, bait, tackle, rods, and reels.
Our Google Reviews
★★★★★
This was our 2nd trip with All In One and it was great! Capt Justin took us to some great spots and was super awesome with our family. We will come ...
Nate Fisher, Charleston
★★★★★
I booked a fishing trip, and Brandon was a great guide. We caught fish all day. We caught over 40 Red Drum and a number of Sea Trout. I highly recomme...
Commie Byrum, Charleston
★★★★★
Went out with Ronnie yesterday and man was it a blast. Ronnie is a great captain and you can feel his passion for what he does. Ronnie definitely know...
christopher rosensteel, Charleston
★★★★★
We had an awesome day fishing with Captain Justin! He was very patient and kind, and he kept us right on the fish! It was just as important to Justin ...
Teri Porcel, Charleston
★★★★★
We did the inshore 6 hour trip with 3 of us on the boat. There was plenty of room on a comfortable boat. They took us straight to fishing spots and ...
Jonathan Soltis, Charleston
More Reviews