Fall has quickly set in here in the beautiful Charleston, South Carolina area, and so has the inshore fishing bite. As tourism season slows down, many question the fishing ability when it is chilly outside, however this is our favorite time of year – let us tell you why!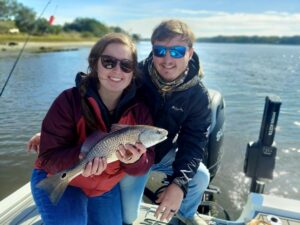 Those amazing night time lows of 40-50º with day time highs of 60-70º start to roll in, it quickly drops the water temps to the 70º mark; our ideal Charleston charter fishing conditions, making the fish school and very hungry! Our inshore fishing guides here are seeing great numbers in the shallow waters, on the schooled up reddrum (aka redfish) and spotted seatrout due to this change in season. As our fall/winter season continue we will see larger numbers of fish caught as well as the schools become larger and the quality of fish size increase.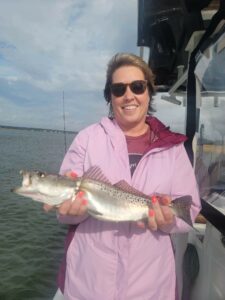 The change in temps does affect the naturally placed live bait options, which allows for our inshore fishing guides to get creative utilizing artificial and live bait, creating a quick feast for our fishy friends. Early morning in and around the scenic Charleston harbor we can start with top water lures and as the sun rises switch to using live shrimp or mud minnows below a popping cork for our feisty spotted seatrout. Or, head into the shallow waters – like the Cooper River, Stono River, or Wando River, to name a few – for some light tackle action fishing along grass banks, oyster beds, and old docks; using live bait below a cork on Carolina Style bottom fish for our favorite fighting reddrum.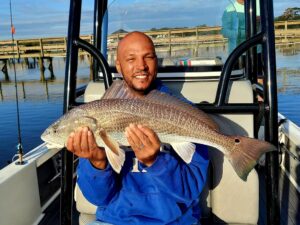 So lets put on a hoodie and come fish with All In One for some great light tackle, shallow water fishing action.
Tight Lines & Fish On.
Call 843-330-3272 with any booking questions and hope to see you soon!
Feel free to utilize our easy Book Now button at www.allinonecharters.com as well!