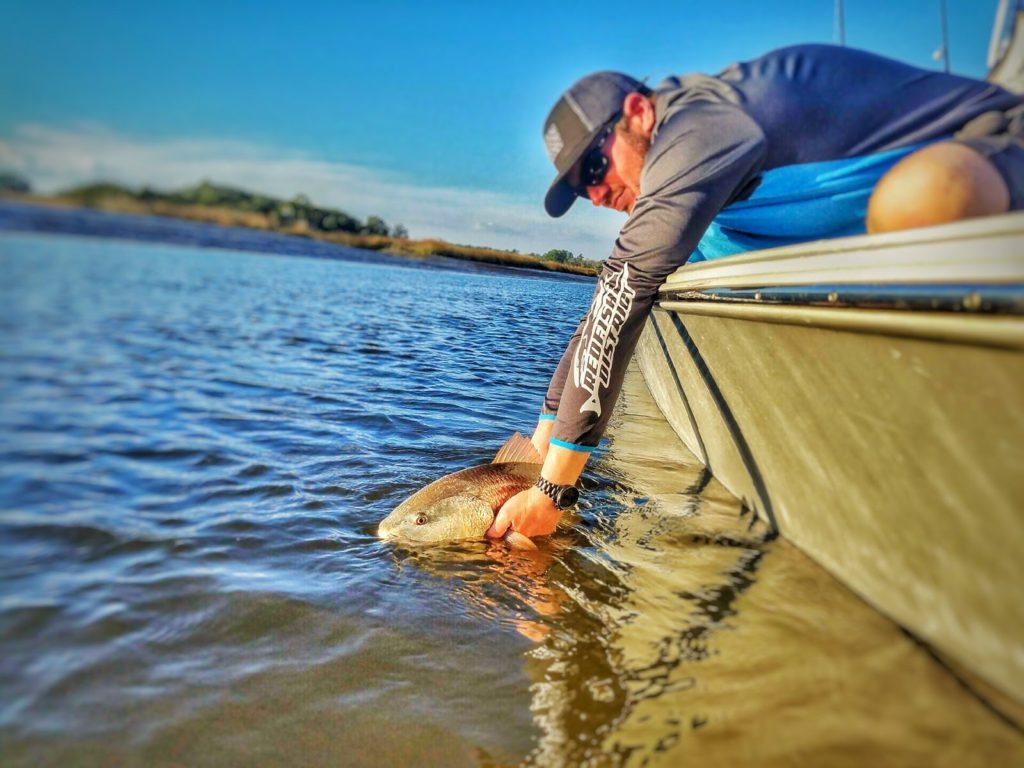 Fall Fishing consists of drops in water temps due to our sporadic cold fronts; going from winter, summer, spring, fall all in a day. So dress warm for the sunrise, but have light layers as you will be sweating by lunch!
Ok, ok, enough about the lovely weather, Captain Ronnie from All in One Charters, in Charleston, SC, has the stage, and will help guide the creek fishing way.
First is obvious, we need a location for where to fish. How do we pick a new location?
Well over my days, I have found that a great way to do this is to go scouting during our negative tides, this allows us to see hidden structures such as old dock pilings, oysters, rocks, and many other things that may hold fish.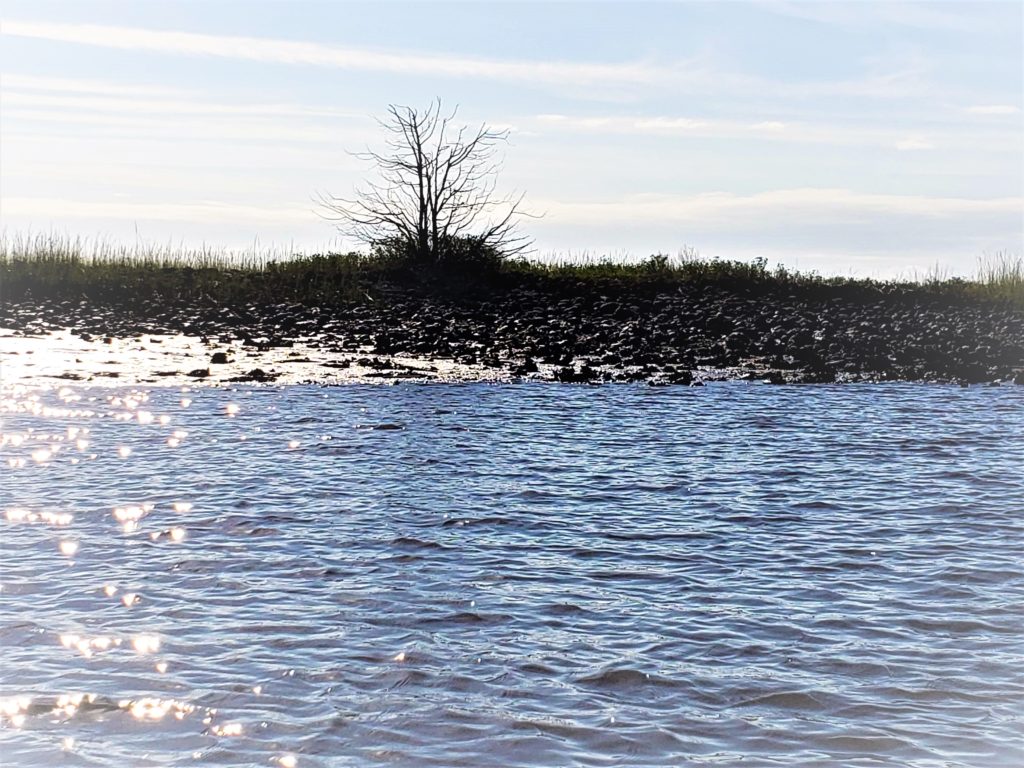 As soon as the tide starts rolling in and moving water across the areas we've found that may hold fish is a very effective way to approach it. Next up, we need to find out what's biting.
So let's start by going a little upstream from our new mark and float a live bait into the targeted area; we want the float of bait to be as natural as possible, this is so we do not spook the fish. Trust me, this is very important. I can first hand vouch we do not want to hit the fish!!! =P
Yeah, I know, live bait is the "easy way out" in many eyes, so if you are an artificial angler, gear up with some small grubs in the 3in range, and work on floating the jig right in. My favorite technique is to "skip" jigs right to the spot. This came with lots of practice skipping worms for bass under Cypress trees with Gramps. Skipping the jig into the targeted spot makes little disruption, therefore helping minimize panic in those jumpy fish.
Trying to target grass lines? Then the keys is to allow your bait to stay in the targeted area as long as possible. Personally I love using popping corks when choosing this style. Your leader depth is important, depending on the species you are targeting.
Pick up a  Medium-Heavy Fitzgerald Aqua Dream Rod, and your favorite light reel (Mine is a Daiwa BG 2500 that can be purchased at Haddrell's), give your rig a toss, ahead of the current, and as close to the grass as you can. Flip your bail, aid in the release of excess line and twitch as needed so we can naturally guide our line and rig with the current, assisting the flow as natural as we can, all while keeping the bait close to our target depth and range needed. Controlling how fast the cork gets pulled away from the bank is a significant factor in catching fish.
One first try at your new spot, is not enough time to rule it out. The most proficient way in testing a spot is by experimenting with new nearby docks, a decent length of the hopeful grass bank, and so on during incoming and outgoing tides to truly explore your options. Then once you begin locating fish, note it and play around with the general area at different times throughout your days. Huh? Why not hit the new spot at the same time of tide each trip? Well, there is a possibility you could have caught more at that spot, sooner or later, literally. The extra time spent directs you to figuring out the exact time frame that is prime for that particular location.
The extra research and development, hahaha, isn't just for catching fish, but will allow to better plan your future days of tight lines. "Chasing the Tide" is basically just moving from each of your honey holes at just the right moment to keep catching fish throughout the entire tide swing. Transitioning those days of just fishing to days of catching!
In Charleston, we are lucky enough that there is more than enough potential hot spots, that with enough time spent scouting and learning when each spot yields the most, you will just about always be able to catch fish no matter the time of day. 

Awesome, right? I agree, no longer having to plan your day around low or high tide is so convenient.
Now of course there will be times in the tide when the bite will be the best and it is almost always around the stall or startup, in water movement. You can't just base this on what the tide chart says, it goes deeper than that. Wind will play a huge role in this and affect how the tide moves. If the wind is blowing into the direction of the current AKA a head wind we find the bite in that location to almost always be unfavorable. You should also notice that the water is the area is now very disordered. However, change of plans is ok, go to your locations where the wind is going in the same direction as the current, as it aids in the water being calmer.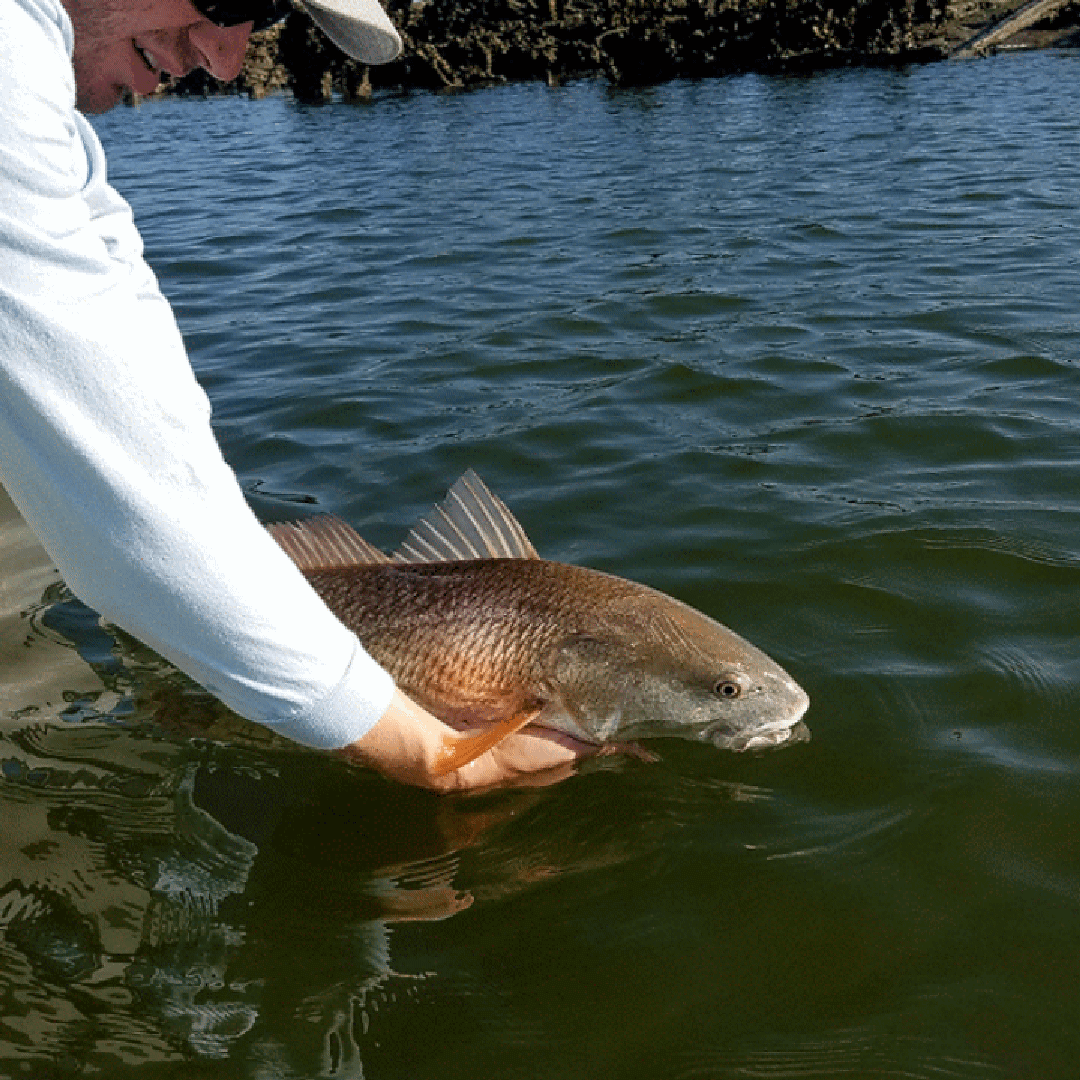 A helpful reminder to keep your fishing spots heatly is to practice proper catch and release techniques.
For now, that's it on some shallow water fishing tips; Want a more hands on experience Captain Ronnie also offers customized tutorial seminars on the water for a private hands on teaching experience.  Book your fishing charter today or call at 843-330-3272. Be sure to join Captain Ronnie's private fishing group on Facebook for more tips and tricks; or follow us on Instagram for our recent catches.