Meet Hilary Rose, a very successful southern fashion, beauty & food blogger. Hilary has written posts on Charleston Guide, wedding, etiquette, outfits, and travel.
Hilary Rose and her friends took an inshore fishing charter with All in One Charter in Charleston, SC geared up with Vineyard Vines apparel. Here is her write-up that she posted on her website. Her blog had so much personality that we wanted to share it as she wrote it.
Fishing Charter with All in One Charters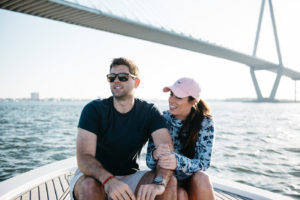 Since I moved to Charleston, it has been my goal to see a dolphin. I'm absolutely obsessed with them (all marine mammals actually) and everyone said you see them all the time in the harbor, but it took me six months and a trip out with All in One Charters to finally see one. Y'all, it was worth the wait! I swear my heart skipped a beat when I finally saw one. Although he was moving too fast to snap a pic, I got a video on my phone, and it makes me sooooo happy when I watch it!
My friend Barbara (Blushing Alpacas) reached out to All in One to be a part of our guy-centered Charleston giveaway, and they were kind enough to offer a 2 hour trip to the winner of the giveaway in addition to taking us and our guys out on the water to see what they are all about! This was Brent's first photo shoot with me, and I think he did really well (although, how can he complain when we got to drink beers and go fishing?). Nicole was so awesome to join us as well, and this was definitely a first for her.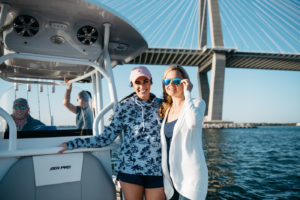 When it comes to fishing charters in Charleston, All in One Charters is the way to go, y'all. When we hopped on the boat, the first question asked was what the priority of the trip would be (my hand obviously shot up and asked to see dolphins), and they made sure it happened for us. Their main gig, of course, is fishing. They know all the great spots, and when you book your time it includes bait, rods, tackle, a fishing license, a cooler with ice, and sunscreen/bug spray, AND you're allowed to bring your own cooler of alcohol (no bottles). What sets them apart, though, is that they also offer historic, wildlife, scenic, and adventure tours as well, which is unique for fishing charters in Charleston. Honestly, we all know that tourism in Charleston can tend to be focused on what women want from a vacation (cute photo spots, cute restaurants, great shopping) so if you're looking for an activity that will make the guys happy as well (or girls like me who love fishing more than shopping sometimes), this is a really great option.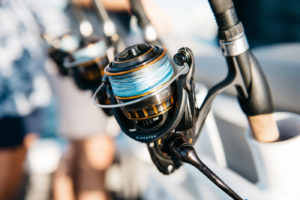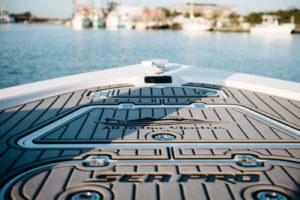 A big thanks to All in One Charters for having us out, and also to Vineyard Vines for getting me fishing charter-ready with this cute gear!
Photo Shoot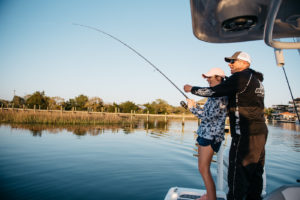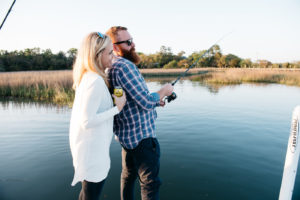 Check out the photos of the day on the water in Charleston showcasing the Vineyard Vines outfits and apparel. Photoshoot by N Mickle Photography. To see all of the photos from that day, click here.
Hilary Rose Elrod
Here is Hilary's About section so you can meet this southern belle: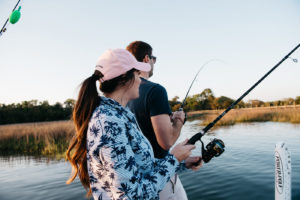 Hey, y'all! My name is Hilary Rose Elrod and welcome to By, Hilary Rose. I'm a Southern girl, born in Georgia and raised all through the South. I ended up in Austin, TX where I went to the University of Texas at Austin (Hook 'Em!) studying Anthropology and Art History. My love for the arts led me to a museum job for three years, but I needed a creative outlet for my love of fashion, so I started By, Hilary Rose on January 1, 2015. After a lot of thought, praying, and support from my loved ones, I decided to go all-in and make blogging my full-time gig in May of 2017.
Now, after eight years in Austin, I've decided to take another leap and move to Charleston, South Carolina! I've always had a deep connection to my Southern roots, and the Holy City totally stole my heart, so I decided to make it my new home.
What you'll find on my blog is a mixture of style, travel, beauty, and what I'm most passionate about etiquette. Being from the South means I was brought up to always dress appropriately and behave in a ladylike manner, and I'm excited to share tips that have been passed down to me since I was a child.
My favorite color is light blue, my celeb crush is Zac Efron, my spirit animal is a chocolate lab, my dream vacation spot is the French Riviera, and I'm told my doppelgänger is Kate Beckinsale (a girl can dream).
Hilary's blogs have been featured in:
Southern Living
http://www.southernliving.com/fashion-beauty/by-hilary-rose-fashion-secrets
http://www.southernliving.com/fashion-beauty/southern-fashion/southern-fashion-instagram#by-hilary-rose
Laurenconrad.com
https://laurenconrad.com/blog/2017/03/tuesday-ten-march-style-tips-3/
https://laurenconrad.com/blog/2016/08/tuesday-ten-august-style-tips-3/
https://laurenconrad.com/blog/2016/12/tuesday-ten-december-style-tips-3/
CHS Today
https://chstoday.6amcity.com/local-style-influencers-charleston-sc/
Austin Way
https://austinway.com/how-austin-fashion-bloggers-dress-for-cooler-weather
Camille Styles
http://camillestyles.com/living/cream-of-the-crop/top-austin-fashion-bloggers/?slide=5
Book your charter today
If you are looking to enjoy a day of fishing with friends and family, call us today to reserve a saltwater fishing charter. Our equipment is top of the line and well maintained for your safety and enjoyment. We take great pride in creating memory-making experiences with families and friends.
Get your family together and Book your next fishing charter today!
Step on board with All In One Charters; Charleston's top inshore fishing charter company. We specialize in customized inshore fishing charters; as well as nearshore, and offshore fishing. Join Capt. Ronnie for an action-packed day of saltwater fishing, exploring Charleston's endless inshore waterways in search of top species like Red Drum, Trout, Flounder, Black Drum, and Sheepshead, as well as the chance of some exciting battles against big Bull Reds, or Hammerhead Sharks for some added adrenaline. Book your fishing charter today or call at 843-330-3272.