Amberjack are a game fish from the Carangidae family (genus Seriola), and they are found in the warmer parts of both the Atlantic and Pacific Oceans.
Name
The Amberjack got the nickname reef donkey because it hangs around reefs, and it's stubborn as a donkey.
Three Species
Amberjack has three species of Atlantic fish of the Carangidae family, which also includes the jacks and the pompanos.
Greater Amberjacks
Seriola dumerili are the largest of the jacks. From the nose to in front of their dorsal fins, they have dark stripes.
Lesser Amberjacks
The lesser Amberjacks are known as Seriola fasciata. They have a larger eye and deeper body than the Greater Amberjack. They are brownish-black or olive green with silversides. There is a dark band extending upward from their eyes. Juveniles lesser amberjacks have wavy or split bars down their sides.
Banded Rudderfish
The second smallest Amberjack are called banded or Seriola zonata which can be distinguished from the Pilotfish by the presence of a first dorsal fin. Juveniles have vertical bands similar to the Pilotfish and follow large objects or animals. They have a dark band from their eye to the first dorsal fin and six prominent bars on their body. The larger rudderfish are brown, bluish, or greenish, with a soft dorsal base about twice the length of the anal fin and a tail-lobe white-tipped.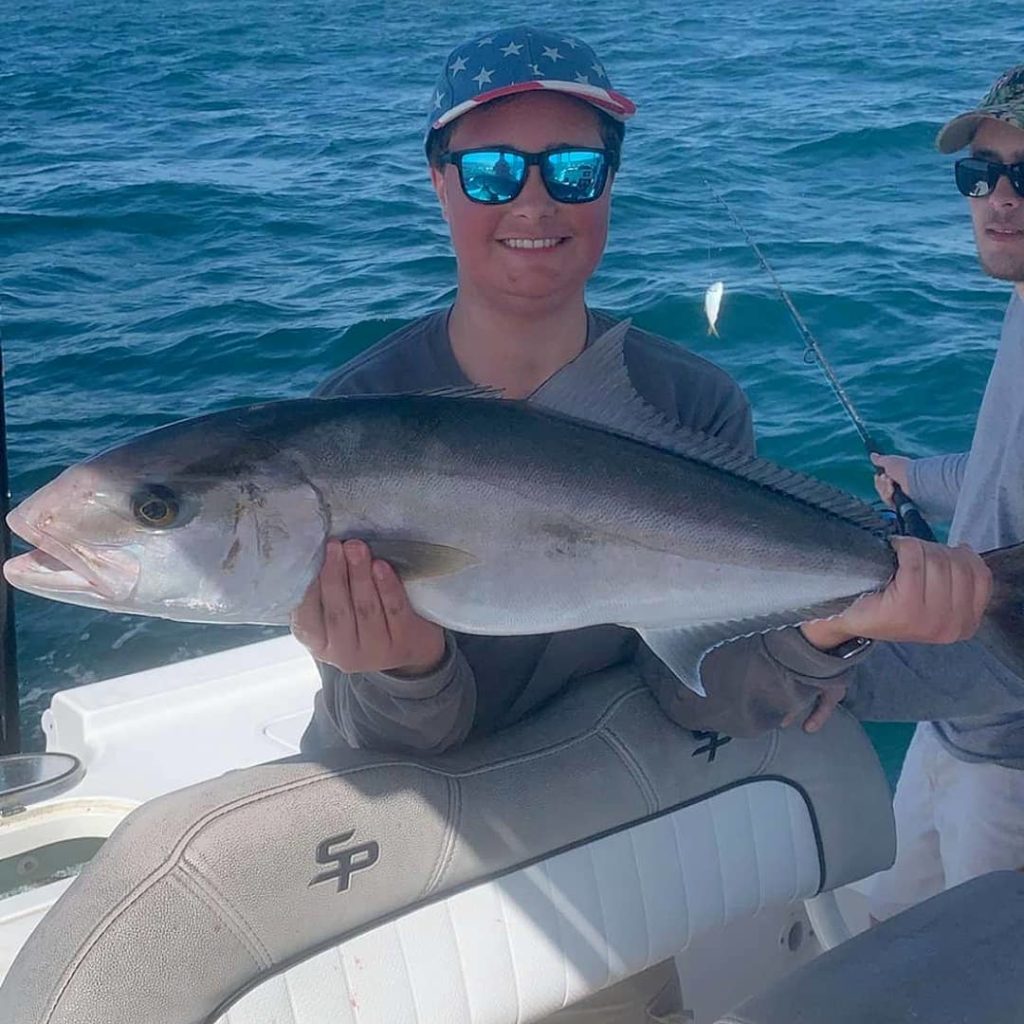 Behavior
Amberjacks are strongly associated with wrecks and artificial reefs in waters that are deeper than 60 feet. They swim in schools and feed on baitfish, squid, and crabs. Light tackle can be used to catch these fish, but anglers can use 50 to 100-pound tackle. Loud noises are okay around this species because Amberjacks are not shy or picky. You can use almost any live bait.
Commonly used baitfish species include blue runners, pinfish, pigfish, grunts, cigar minnows, and sand perch. Amberjack are extremely strong fighters with great endurance. To avoid lost or broken tackle, it's important to have the drag pre-set to match the strength of the angler and the equipment.
Habitat
Greater Amberjacks are typically found at rocky reefs, debris, and wrecks, usually in 10 to 40 fathoms of water. Sometimes caught near shore in south Florida; juveniles associated with floating objects and may occur in water less than 10 meters deep.
Lesser Amberjacks are found much deeper than other jacks, usually at 30 to 70 fathoms.
Banded Rudderfish are found as far north as Nova Scotia.
Diet
Amberjacks are known to be voracious predators and feed on fish, squid, and crustaceans. Throughout most of the year, they spawn offshore.
Lures
Use Shrimp, Silversides, lures (i.e.: Spoons) and flies to bring in Amberjack.
Size
Greater Amberjacks
Usually 18 kg (40 pounds) or less
Lesser Amberjacks
Adults are usually under 5 kg (10 lbs)
Banded Rudderfish
Fish less than 11 inches long
Eating Flavor
The Amberjack have pale pink flesh with firm, large flakes, and a sweet flavor. Hiramasa is a sashimi-grade farmed Amberjack which has a higher fat content, firmer texture, and cleaner flavor than wild Yellowtail Kingfish (Amberjack).
Some anglers consider Amberjack good eating. Others think Amberjacks are not a good eating fish. Recommendations for preparing this fish to eat are to discard the first few inches from the tail section because it's likely contaminated with worms. Remove the bloodline and blacken Amberjack on the grill for a tasty meal.
Get your family together and Book your next fishing charter today!
Step on board with All In One Charters; Charleston's top inshore fishing charter company. We specialize in customized inshore fishing charters; as well as nearshore, and offshore fishing. Join Capt. Ronnie for an action-packed day of saltwater fishing, exploring Charleston's endless inshore waterways in search of top species like Red Drum, Trout, Flounder, Black Drum, and Sheepshead, as well as the chance of some exciting battles against big Bull Reds, or Hammerhead Sharks for some added adrenaline. Book your fishing charter today or call at 843-330-3272.