The month of June is starting off strong in Charleston's Inshore waters. Get in on the action! Here is a brief report about what's happening on the water with the All in One Charters Fishing Report.
Type of Fish Being Caught:
If the seas aren't too rocky, the nearshore reefs are the place to be. With clear water, you can actually see the fish swim by the boat, how neat right!? Lots of variety and some reel screamers, plus some meat to take home. We are catching awesome sized cobia, as my wife says "cute" spadefish, amberjack, mackerel and bonita.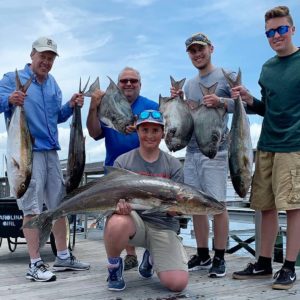 "A great day on the water"
Not wanting to go out in the deep blue? Don't worry! The inshore creek bite is still on for reddrum, trout, and flounder and as always the heat waves are in so the harbor is stocking up with sharks and bull reddrum.
Read our series on the Sharks in South Carolina waters:
If you are looking for a major fishing adventure, try shark fishing with All in One Fishing Charters in Charleston, South Carolina. Book your next fishing charter today!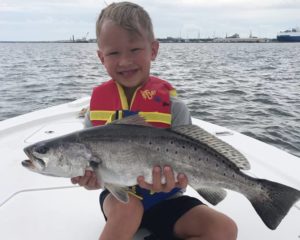 "Happy fisherman with a trout"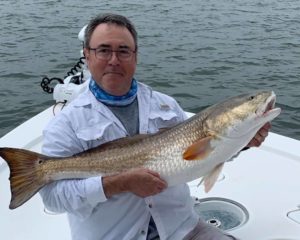 "Prized Bullred"
Tackle and Bait:
Menhaden are thick everywhere, so watch for the top water pops and toss the net. Menhaden are perfect for nearshore, bottom harbor fishing, and if you land some smaller ones throw them on a popping cork for a nice creek red. Remember, All in One Fishing Charters will bait your hook so you can hit the easy button and concentrate on catching the fish.
Shrimping season is in for the commercial fleets so if you struggle to catch it yourself, stop by Shem Creek and grab some.
Location:
In the Charleston Harbor and surrounding waterways, harbor fishing is action packed, and many catch their biggest fish ever. Make sure you experience fishing in Charleston waters with an experienced captain that will land you on the fish.
Everything you will need fishing related is provided as well as bottled water, sunscreen, and bug spray. Come get hooked with All In One!
If you are looking to enjoy a day of fishing with friends and family, call us today to reserve a saltwater fishing charter. Our equipment is top of the line and well maintained for your safety and enjoyment. We take great pride in creating memory-making experiences with families and friends.
Get your family together and Book your next fishing charter today!
Step on board with All In One Charters; Charleston's top inshore fishing charter company. We specialize in customized inshore fishing charters; as well as nearshore, and offshore fishing. Join Capt. Ronnie for an action-packed day of saltwater fishing, exploring Charleston's endless inshore waterways in search of top species like Red Drum, Trout, Flounder, Black Drum, and Sheepshead, as well as the chance of some exciting battles against big Bull Reds, or Hammerhead Sharks for some added adrenaline. Book your fishing charter today or call at 843-330-3272.